How to run a great baby shower party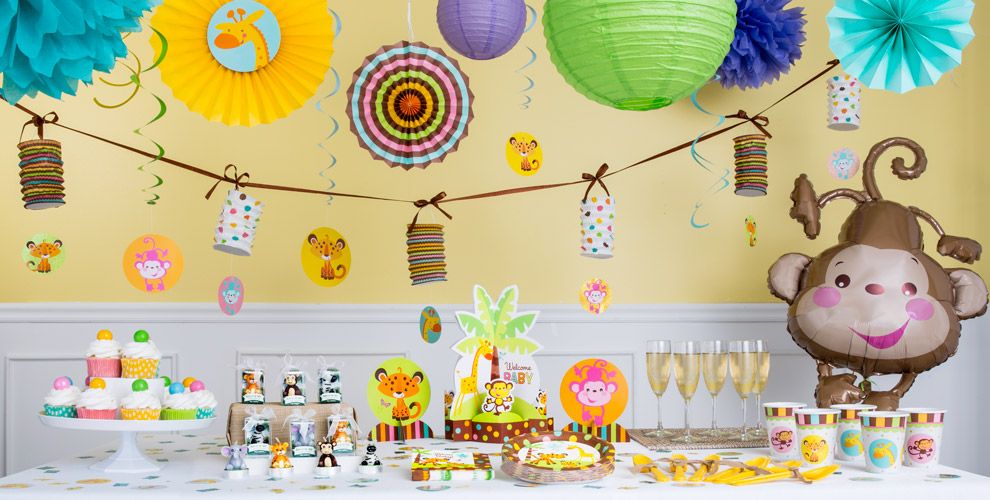 A baby shower is a party that is held for a mother to be in the weeks leading up to the birth of her baby consisting of fun games, lots of food, love, laughter, and many baby shower gifts. Traditionally it is held for women only, although it is becoming more common to have a baby shower with both men and women. A baby shower is usually organised by a close friend or family member of the mother to be. A baby shower can come in many forms, some ideas for baby shower themes are:
Afternoon tea party
Barbeque
Lunch or dinner at a restaurant
Picnic
Group cooking class
Group yoga class that is appropriate for pregnant women
---
Baby shower checklist
Decide on the date. It's a good idea to hold a baby shower about six weeks before the due date so there's less chance of an early delivery. Surprise parties are not a good idea, unless you are sure that it does not clash with pregnancy appointments.
Will your baby shower have a theme? It is often fun to have a theme that relates to the baby if the mother knows if she is having a boy or girl – for example guests could all dress in pink or blue if the mother knows what they are having. Or perhaps if it is a mystery, the guests could dress in either pink or blue, depending on what they THINK the baby will be, a boy or girl!
Decide what type of baby shower you are arranging. Some ideas are: high tea, pampering at a beauty salon, girls movie day, or manicure and pedicure session at the host's home!
Will your baby shower have games? Do not plan too many games for toddlers. Allow plenty of time for people to socialise. Three to five games is perfect.
Arrange transport if required, such as hire a minibus to take people to the event.
Plan ahead for everything you will need – food, drinks, ice, napkins, music!
Make everyone welcome, and to make introductions easy, get everyone to wear nametags stating who they are and how they know the mother-to-be.
Take lots of photos to remember a wonderful day with your girlfriends!
Baby shower invitations
An invitation to a baby shower is the first taste your guests will get of the event. It's a good idea to decide on the theme of your day before you send the invitations, so the theme is continued throughout. Remember that your invitations do not have to be traditional – they can be very creative depending on what type of event you are planning.
Remember the basics:
* where * when * what time * RSVP details * and what to wear
Ideas for invitations for your baby shower
Include a picture of the mother-to-be and the father-to-be as babies on the invitation.
Place the invitation inside a baby's nappy / diaper!
Get the invitation details embroidered (or use an iron on transfer if you are on a budget) onto a baby's plain white bib.
Ideas for gifts
Children's books – A mother can NEVER have enough different books, suitable for different age rages, to read to her child. Go to http://www.memfox.com/ if you want to learn more about the importance of reading aloud to children.
Some timeless, popular ideas are:
"The Giraffe and the Pelly and Me" by Roald Dahl
"Possum Magic" by Mem Fox
"Wilfrid Gordon McDonald Partridge" by Mem Fox
"Where the Wild Things Are" by Maurice Sendak
"Green Eggs and Ham" by Dr Seuss
"One Fish Two Fish Red Fish Blue Fish" by Dr Seuss
For a fashionable mother:
"This Little Piggy Went to Prada: Nursery Rhymes for the Blahnik Brigade" by Amy Allen
Baby shower registries are growing in popularity. If the mother-to-be is happy then include the registry details with the invitations.
Try the following baby registry sites:
http://www.thankyou.com.au/
---
Baby Shower Games
Baby Photos
Ask each guest to blow up and photocopy a baby photo of themselves, and then wrap their present for the mother-to-be in their own baby photo. The mother can then guess who each present is from by guessing who the baby photo is of.
Celebrity Newborn
Match up a list of stars with their baby's names
Baby's Bottle
Everyone has to try and drink juice or water out of a baby's bottle as fast as they can. First one to finish, wins!
Nappy / diaper race
Each party guest gets a disposable nappy and a toy doll. They must put the nappy on the doll as quick as they can, without the nappy falling off. The winner must then put an adult nappy on the loser (whoever came dead last in the race), who must wear it for the duration of the party!
The Peg Game
Each party guest gets three pegs at the start of the day. There are three banned words throughout the day, such as 'baby', 'birth' and 'labour'. When a guest is caught saying any of these words, she gets a peg stolen by the first person to hear it and remember the banned word. The person with most pegs at the end of the party is the winner.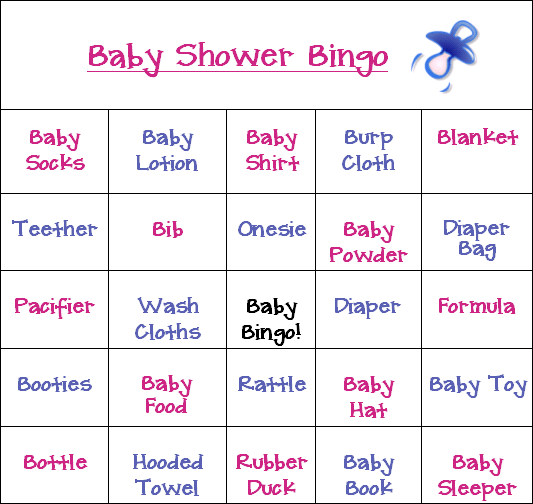 Give out a card to each guest. On each card, everyone must guess:
What the sex of the baby will be
What the baby's first name will be
What the baby's middle name will be
What the baby will weigh
Where the mother will be when she starts goes into labour
Where the father will be when the mother starts going into labour
How long the labour will take
Obviosly, the winner of this game is not known until after the baby is born!
Pin the dummy / pacifier on the baby
Much like 'pin the tail on the donkey' – take a large photo of a baby, attach it to the wall. Cut out a small picture of a dummy. Blindfold the guests (one at a time), spin them around in front of the picture, and get them to try and put the dummy as close as possible to the baby's mouth – the one who gets the closest is the winner!
Mystery mush
Take five jars of baby food of different flavours and remove the labels, so that the flavour of each is unknown. Make sure you know which one is which before you do this! Give each baby shower guest a small taste of each baby food, and get them to write down what they think the flavour is. The guest with the most correct answers wins!
Girth
Guess the expectant mother's girth: guests cut pieces of ribbon, string, or toilet paper to a length they believe matches the mother-to-be's tummy circumference. The guest who gets the closest wins a prize!
---
Ideas for prizes
Lolly dummies (pacifiers)
Small cookbooks
Photo frames
Teacup and saucer sets
Tea towels
Aprons
Ideas for gifts
Beautiful photo albums or photo frames for all the baby photos the new parents will take
Skincare products for the baby, and for the mother – moisturizers, bubble bath, shampoo and conditioner